You Can Make a Difference
Legacy Park thrives on two forms of support — financial contributions and volunteering. We welcome both and invest our days in working to ensure our supporters and community overall receive meaningful value in return.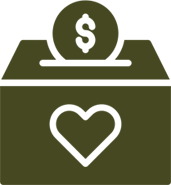 Legacy Decatur, the nonprofit entity charged with managing Legacy Park, receives yearly support from the City of Decatur, leasing income from park facilities, event fees and yes, donations from people like you who love the park and want nothing more than to see it thrive.
As a recognized 501(c)(3) organization, donations made in support of Legacy Park are fully tax deductible. Make yours today.

Looking to give back, make some new friends, or accrue service hours?
Legacy Park offers a variety of project opportunities that can be adopted by individuals or small groups and allow for safe, socially-distant work on days and times convenient to you.
Whether you enjoy pruning shrubbery, cutting out invasive plants, creating and planting new pollinator gardens, spreading mulch, picking up trash, or want to discuss a service project of your own design, we have opportunities for you.
We provide trash bags, leaf bags, pine straw, plants and seeds as needed. You bring the work gloves and yard tools.
Looking to make a difference at Legacy Park? Contact us with your ideas, sign the waiver and get to work.
Get in touch.

Stay in touch.
For park management, programming and leasing
DECATUR PARKS AND RECREATION
For youth sports, gym and athletic field inquiries,
and school break and summer activities