The land we now call Legacy Park provided shelter to families in need for nearly 150 years as the United Methodist Children's Home before its sale to the City of Decatur in 2017. Today we honor that legacy with a new community vision for the property — one that prioritizes affordable housing right along with natural conservation, recreation, community spaces, the preservation and reuse of historic buildings, and the celebration of arts and culture.
Progress towards this vision took an important step forward on April 18 when Decatur's City Commission approved designs submitted by the Decatur Housing Authority for the park's planned South Village.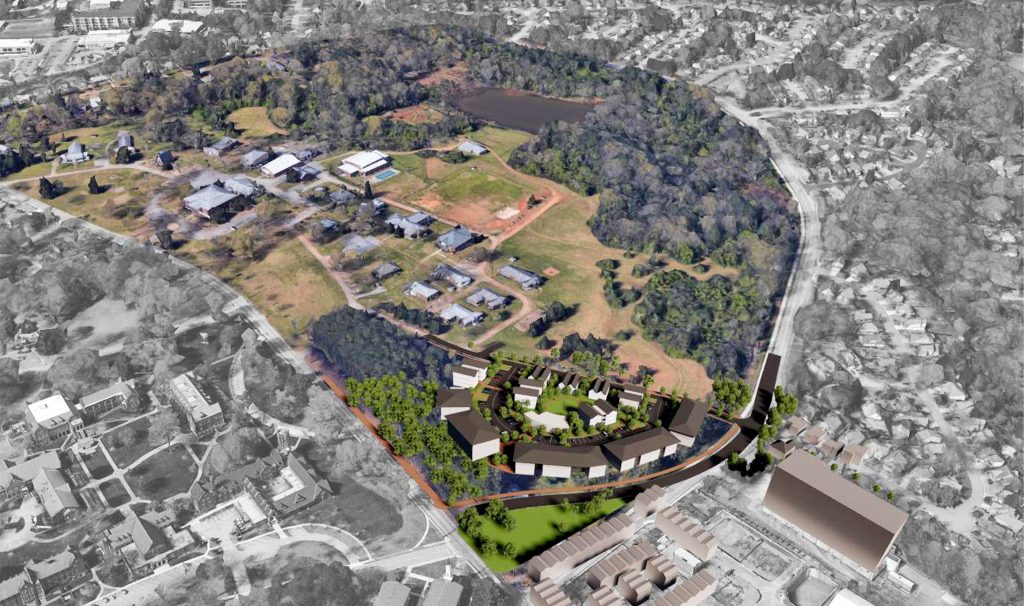 Located in the southwest corner of the park, the proposal replaces 8 existing substandard duplex apartments and 2 aging single family homes with 132 new multi-family units arranged across a clustered assembly of 2 and 3 story buildings, forming what DHA Executive Director Doug Faust calls "a community of families."
Preservation of the pine forest along S. Columbia Drive is integrated with the plan and the maximum height of 3 stories ensures comparable massing with surrounding development.
Director Faust is often heard to say, "It doesn't cost any less to build affordable housing than it does to build market-rate housing." If affordable rents are insufficient to cover design and architecture, site development and construction costs, financing, building management, ongoing and long-term maintenance, and more, those costs don't just go away. The money needs to come from somewhere else.
Thankfully, through a partnership of the City of Decatur and the Decatur Housing Authority, the Decatur community will meet this challenging goal, and do so without cost to local taxpayers. Instead, the bulk of the required funding is expected to come via low-income housing tax credits issued through the state Department of Community Affairs, with additional costs covered by the city's Federally-allocated American Rescue Plan (ARPA) pandemic funds. No borrowing of money or use of local tax revenue is planned.
The 7 acre site will continue to be owned by the city who will make it available to the DHA through a long-term ground lease, thus ensuring affordability not just today but in the decades ahead.
The virtuous outcome of this partnership is evident: new, dignified housing where each for-rent unit will be priced affordably for working individuals and families currently excluded by the offerings of Decatur's booming housing market.
As stewards of Legacy Park, Legacy Decatur is charged with ongoing management of the property and the implementation of its master plan. But grand ambitions transcend this daily role, requiring substantive partnerships and resources. We're grateful for the City of Decatur and the Decatur Housing Authority for their leadership and look forward to an anticipated 2023 groundbreaking.